We at Megavison have a wide range of services. Our plethora of services is what makes us the best Histopathology Laboratory in Pune. We provide these services with efficiency because we are committed to the welfare of our patients.
Histopathological examination of tissues starts after surgery.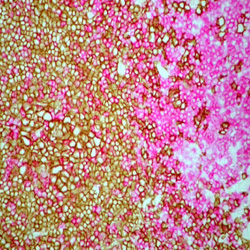 IHC is a technique used to determine the presence and level of specific cellular proteins.
Tissue removed during surgery are placed in normal saline & sent immediately to the laboratory for Frozen Section.
DIF involves the application of antibody–fluorophore conjugate molecules to patient tissue samples obtained from biopsies.
Cytospin technology uses high spinning cytocentrifuge to increase more yield of cancer cell for accurate diagnosis.
To look for the presence or prevalence of particular cell types, structures or even microorganisms such as bacteria.
01. Accomplished & Experienced Doctors
We maintain an extensive standard of excellence in our medical services and our commitment to providing the highest quality to our clients. Our staff comprises highly trained doctors who are dedicated to the welfare of patients.
02. Latest & Modern Equipments
We have state-of-the-art imported instruments to make sure that our patients get the best treatment possible. This makes sure we never lack precision.
We want to give our patients the best possible service and we want them to have it as fast as possible. For this reason we make sure that we deliver all our reports on time.
Accurate Diagnosis
04. Reliable On-Time Reporting
We understand that accurate diagnosis could be life-changing for a patient and that diagnosis is a deliberate process. Knowing this we follow the exact strictures and procedures it takes to get the most accurate results.